Our Value Proposition
YOU are definitely in good hands as your company's manpower requirements are managed by seasoned and professionally trained Human Resource Practitioners!
We leverage on the collective professional experience and academic qualifications of our Management Team and Staffs thereby assuring YOU of a highly professional, efficient and time-bound Specialized Recruitment Service.
We will build not just business but long lasting professional relationship with YOU.
YOU will enjoy best value for your recruitment budget. Our recruitment fees our cheaper and flexible! Why go for expensive recruitment partners if we can offer you definitely better quality Specialized Recruitment Service!
YOU will experience a one-stop Specialized Recruitment Service in us! Recruiting for other nationalities can be coursed through us with our strong alliance with best providers of manpower from India, Nepal, Pakistan, Sri-Lanka, Bangladesh, Malaysia, Indonesia and Vietnam!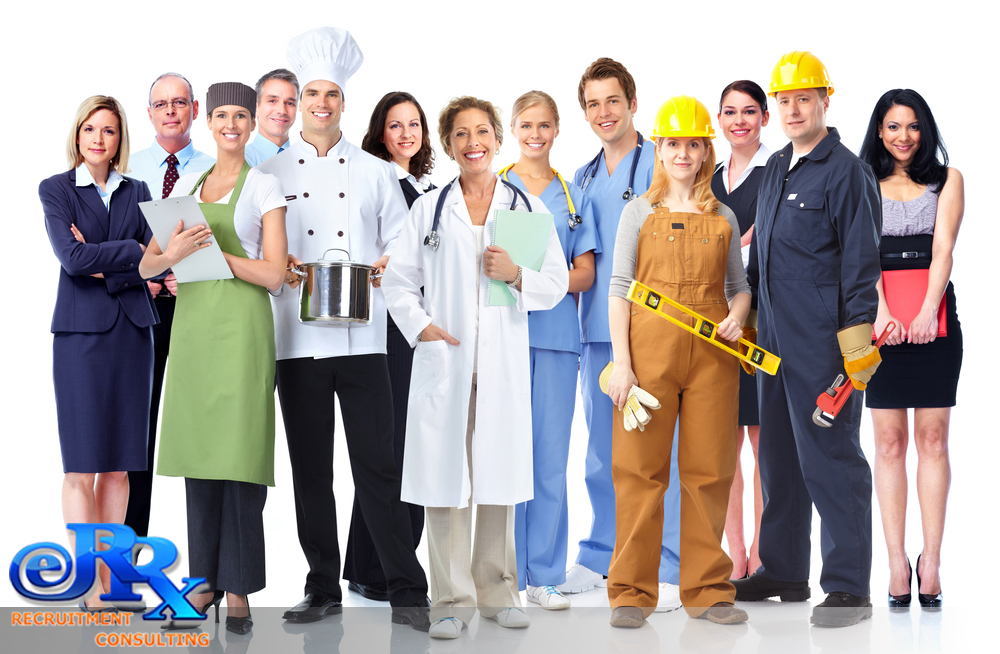 Mission
To provide our clients with a specialized and efficient outsourced recruitment processes, best available and interested talents and reducing recruitment lead time thereby maximizing the company's productivity and recruitment budget;
To provide our Talents the best possible job opportunity and customer service at par in the industry and treat them with honesty and respect.
Vision
To be among the Philippines' best provider of uniquely tailored international recruitment services.
Our Core Principles
Our business operations will be guided among others by three core principles: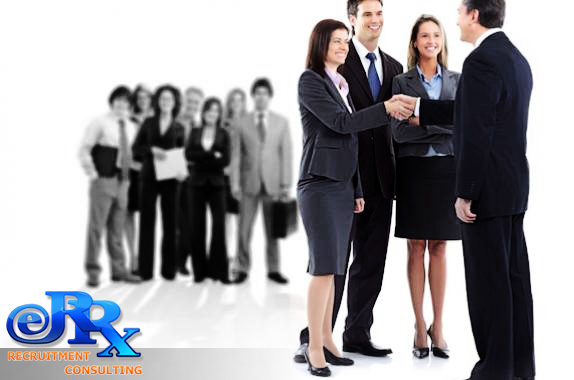 Knowledge
Our management team is composed of young, well experienced, determined and dynamic HR Professionals. Our group possesses unique experience of our own and we've compiled our strengths and continue to accrue deep market knowledge.
Integrity
We deliver and we won't promise if we cannot! With our experience, processes and tools, we are confident that we have what it takes to become a name to be reckoned in the industry. Our team is trained to achieve results and we provide an agile, hands-on service that ultimately produces promised results for both our clients and applicants. We employ KPI's that are reasonably achievable and measurable and we provide a fun but dynamic and goal oriented work environment to our employees. Ours is not a cut-throat culture, instead, we encourage sharing between our employees and we work only with people who enjoys the kind of job they're doing, no shoe-horning!
Customer Service
We observe the highest standard of customer service. We fulfill our ultimate goals of delivering great results and surpass expectations of all stakeholders without sacrificing professionalism.
eRRx Recruitment Consulting's customer service standard is when we see our clients, partner agents and applicants display their sweetest smiles, taps our shoulders with contentment and shakes our hands warmly for thank you!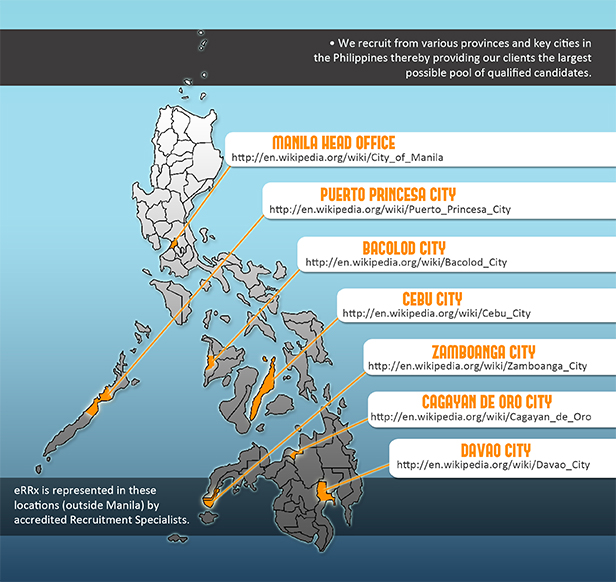 Our Recruitment Capabilities
eRRx Recruitment Consulting uses proven and effective methods of sourcing, recruiting and interviewing. Our recruitment program is done through a systematic procedure where our foreign principals provide us all the details and criteria about their talent needs. We maintain a large databank of applicants who are ready for deployment in various industries and categories. We use internet portals, social media sites, community networking as well as maintaining good network of freelance recruitment agents.
We also regularly attend job fairs sponsored by Public Employment Service Offices (PESO) and other related agencies across the country.
We ensure that only Filipino workers qualified and medically fit are deployed to our employers. Hence, our workers are medically examined by our accredited medical clinics and trade-tested or trained by our affiliated training centers authorized by the government.
We provide cultural briefing and orientation to our applicants for them to have better understanding of the customs and laws of the country they will be deployed to.
We recruit from various provinces and key cities in the Philippines thereby providing our clients the largest possible pool of qualified candidates.
Industry Coverage & Commitment
We offer valuable experience in recruiting for the following industry domains: Industrial Manufacturing (Air Conditioning, Pressure Vessels, Structural Steel, Pre-Fabricated Buildings, Glass, etc.) Oil & Gas Industry (midstream, upstream and downstream) Services Contracting & Outsourcing Healthcare, Hospitals and Allied Medical Services Information Technology Banking & Finance Educational Institutions Hotels, Hospitality, Services & Travel.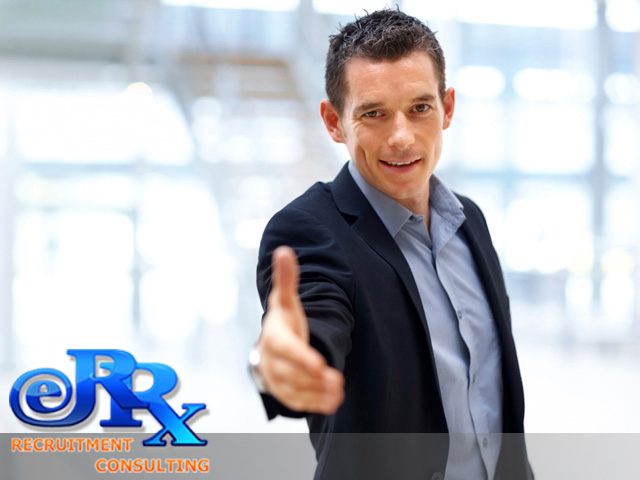 Meet Our Team
Our Management Team is headed by a young and dynamic General Manager, Mr. Erwin R. Relox. He is a professionally trained and seasoned HR-Recruitment professional having 18+ years of progressive recruiting experience in international & domestic recruitment and staffing. He has extensive exposure covering various industries such as Manufacturing (Steel, Pressured Equipment, Pre- Engineered Buildings, and Structural Steel & HVAC), Construction, HVAC Services, Food Manufacturing, Information Technology & Banking. Highly knowledgeable in organizing & managing all levels of international (multi-countries/cities) and local (Saudi) recruiting campaigns. Organized and managed various recruitment campaigns in the Philippines, Sri Lanka, Nepal, Indonesia, Vietnam and in various cities of India such as Mumbai, New Delhi, Cochin, Chennai, & Bangalore.
A British Psychological Society Level A & B registered and an accomplished Recruiter with vast exposure in recruitment policies and procedures. Experienced in General HR with special interests in the areas of Human Resource Information System (HRIS), Manpower Planning & Performance Management. He has worked with some of the biggest organizations in Saudi Arabia: Zamil Industrial Investment Company (www.ziic.com), Yanbu Aramco Sinopec Refinery Company (www.yasref.com) and The National Commercial Bank (www.alahli.com).
Our Corporate Social Responsibility
ERRX is committed to giving back something to our community. Aside from our conscious effort to practice office frugality by economizing office consumables and to do recycling, we also endeavour to reach out to our community and become responsible members of our society in whatever way possible.
Our Current CSR Projects:
Lapis Kag Papel
The company has partnered with a Non-Government has partnered with a Non-Government Organization (NGO), Kasimanwako Association (K2A). Though K2A's Lapis Kag Papel Program, eRRx is able to help less fortunate yet deserving school children across the country.
Through K2A, eRRx shall provide school supplies to kids based on the number of deployment recruits per year. One Recruit means one elementary pupil receiving a bag with school supplies he/she can use in school. The more Recruits eRRx can deploy, the more children will receive bags with school supplies. To know more, please visit: www.kasimanwako.com you may Like us in FB: Sibuyan KasimanwaKo
Because We Care ERRX believes that the world needs love and respect. Regardless of who we are, our status, our work, we should be able to show kindness to all, we should be able to show the world that we care. This belief triggered "Because We Care" – a random kindness act project that our Team commits to do to our applicants and to our community.
ERRX with enthusiasm welcomes all possibilities of working with various Non Government Organizations (NGOs) in its effort to become relevant, to become a role model, to become a responsible industry key player.